The cryptocurrency market cap taps 2-month record as Bitcoin hit $44K and ethereum went through its London hard fork and started trading above $3000 for the first time in months as we can see in today's altcoin news.
The Bitcoin bulls entered the market and pushed the number one cryptocurrency to a near three-month high around $44,000 and most other coins pushed gains as well with ETH closing down to $3000 with the cryptocurrency market cap taps 2-months record adding $100 billion in one day. Ever since the middle of the week, Bitcoin's went on a roll for most of the time and recovered by thousands in just days, and breached $40K. At that time, the bears regained control slightly and pushed the asset south to over $37,000 but the retracement was short-lived and BTC went on to mark a bigger gain.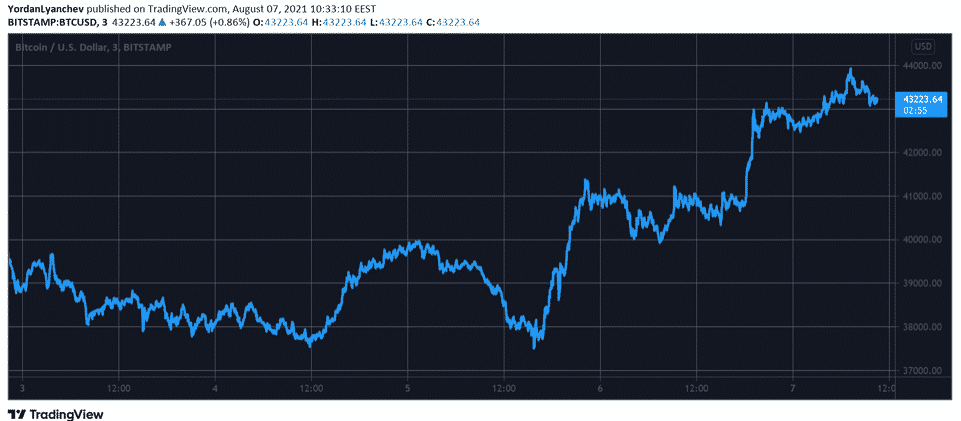 BTCUSD. Source TradingView
In the next few days, BTC reclaimed $40K but it then kept climbing. The leg up resulted in reaching $44K which became the highest price tag in three months since the mid-May crash. BTC retraced by a few hundred dollars but still stands at $43,000 so its market cap increased to $800 billion for the first time in months. The alternative coins mimicked a larger extent of Bitcoin's performance this week and Ethereum's trajectory was even more impressive. It was fueled by the hype around the London Hard fork which happen a few days ago and its price increased by more than 20% since last weekend.
Furthermore, the second biggest crypto neared $3000 hours ago for the first time since mid-May and the rest of the market is in the green. This includes similar increases for Cardano, Binance Coin, Chainlink, Ripple, bitcoin Cash, Litecoin, Uniswap, DOT, and DOGE. ICP was the biggest gainer from the top 100 with a a35% gain to $55, Ravencoin by 22%, HOLO by 22%, and Vechain by 12%. the cumulative market cap added another $100 billion in one day and went to just shy of $1.8 trillion.

Cryptocurrency Market Overview. Source Quantify Crypto
As recently reported, Bitcoin rallied above $42K on Friday as short positions continue to unwind from the second quarter sell-off. The biggest cryptocurrency by market cap is about 1% over the past week compared to a 17% gain in the ether in the same timeframe. Some analysts are optimisic about the broad crypto rally and see more upsides, especially for ether. Ether rallied past $2600 as the latest hard fork upgrade or the London hard fork which got officially activated on the Ethereum blockchain. The mood of optimism seems to have returned on the crypto markets but there's slight turbulence over the past weeks which we should wait and see if it subsides.
Source: Cryptocurrency Market Cap Taps 2-Month Record As BTC Hit $44K